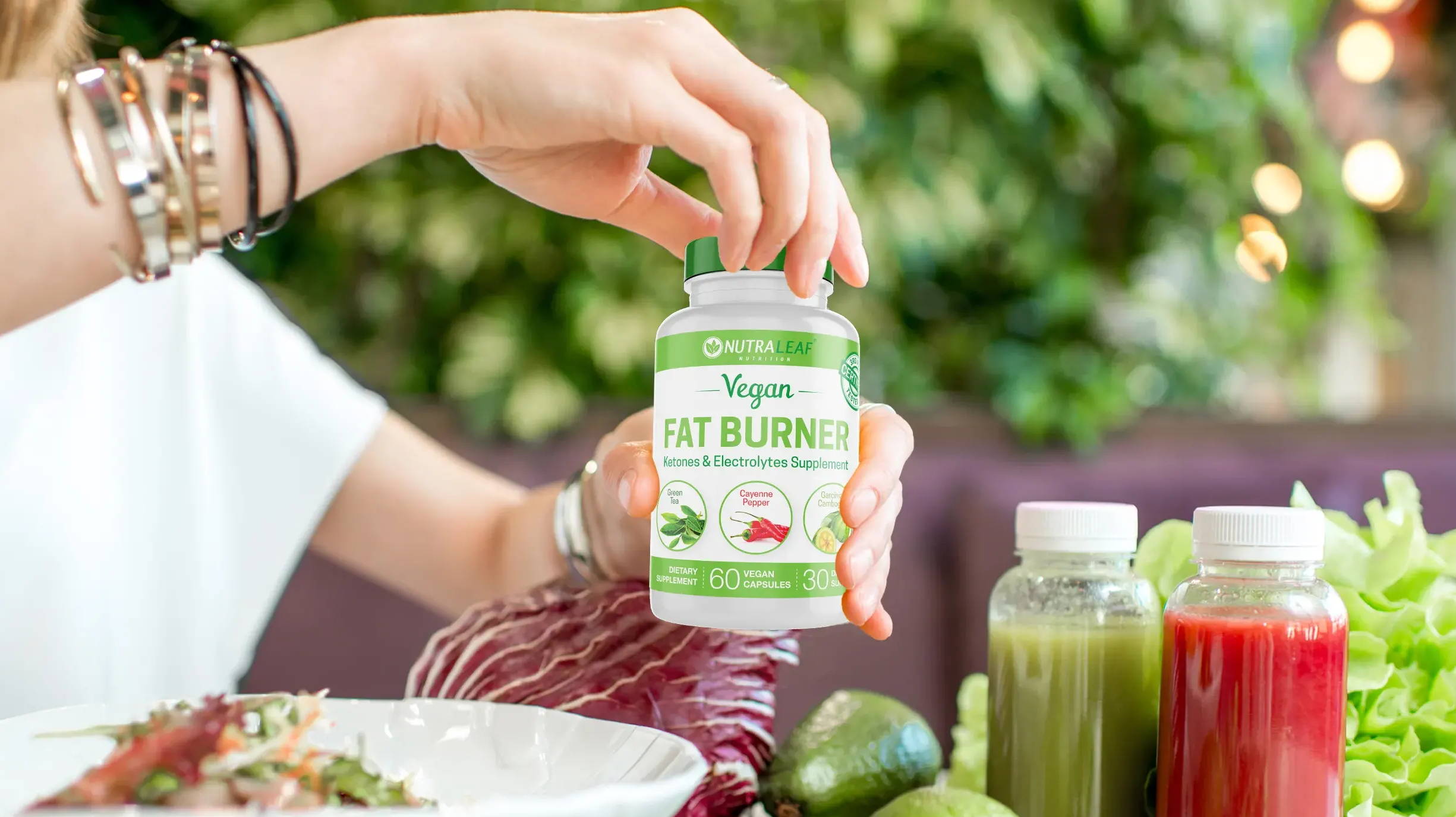 World's Best Working
      Vegan FatBurner

          100% Natural. Vegan. No Artificial Anything.
      Burn fat. Stop cravings. Boost energy.

Made with only plant-based ingredients, You'll Be Wondering
"How Does It Work SO WELL?"
One of the most unique benefits of our product are it's thermogenic properties.
thermogenic (adj.)
[ther·mo·gen·ic | thər-mə-ˈje-nik]
adj. increases heat through metabolic stimulation
Burn Fat.
Stop Cravings.
Boost energy.

"Had gained 32 lbs in past 1.5 years due to two surgeries and unable to be active as I was. Taking it off a challenged, no matter what I did. Until I started using Nutraleaf protein shake and the fat burn tablets. As of today I am down to 137lbs from 162."
"One of the strongest since Hydroxycut"
-Vivienne H.
Seriously the first diet pill I've used that doesn't make feel horrible and jittery, and actually curbs my appetite. I take it around noon and keeps me from snacking too much at night. Love this product and will continue to buy.
World's Best Performing Vegan FatBurner.
100% Natural. Vegan. No Artificial Anything.

Burn fat. Cut cravings. Boost energy.
Here's Why You'll Love Our Vegan FatBurner

We use a simple, clean formula for our FatBurner – and it feels amazing.
But why do so many people choose to take it in the first place?
Here are more reasons people take our Vegan FatBurner
+
How it works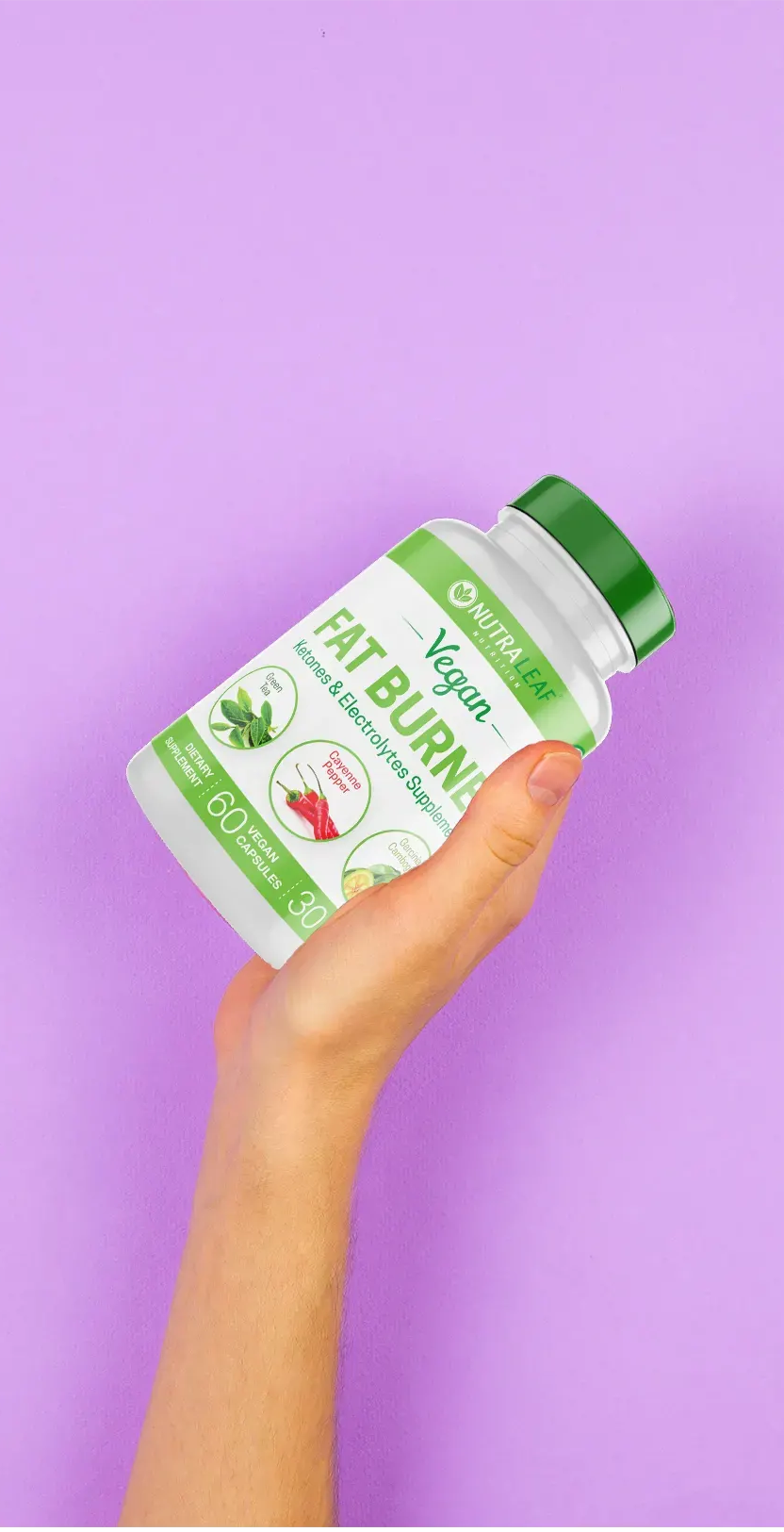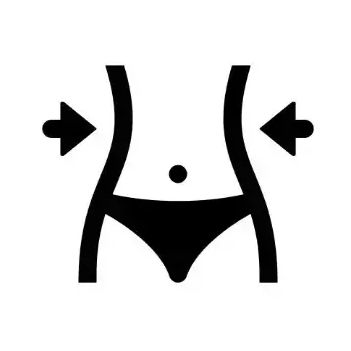 HELPS CONTROL CRAVINGS (AND CURB APPETITE)

Maybe you're trying to lose weight. Maybe you want to stay lean and toned. What we all have in common is the need to help fight those sugar cravings in between meal. Suppress and regulate your appetite by reducing cravings and feeling full longer.
THERMOGENIC [ther·mo·gen·ic | thər-mə-ˈje-nik]

The FatBurner is a thermogenic. This means it in creases heat through metabolic stimulation. Like an engine, it revs up the body's metabolism and the pistons start turning faster, burning more fuel and moving things faster. The metabolism speeds up, stubborn fat is burned, and your appetite is suppressed.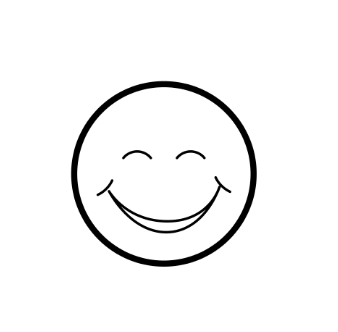 Naturally boost and sustain your body's natural energy levels with green tea based energy. With a boosted metabolism, your body will process foods more quickly and efficiently, increasing and sustaining energy levels.
The natural, plant-based ingredients in the FatBurner are loaded with nutrients and antioxidants that further help fuel your body with the energy and power it needs to work hard and feel good.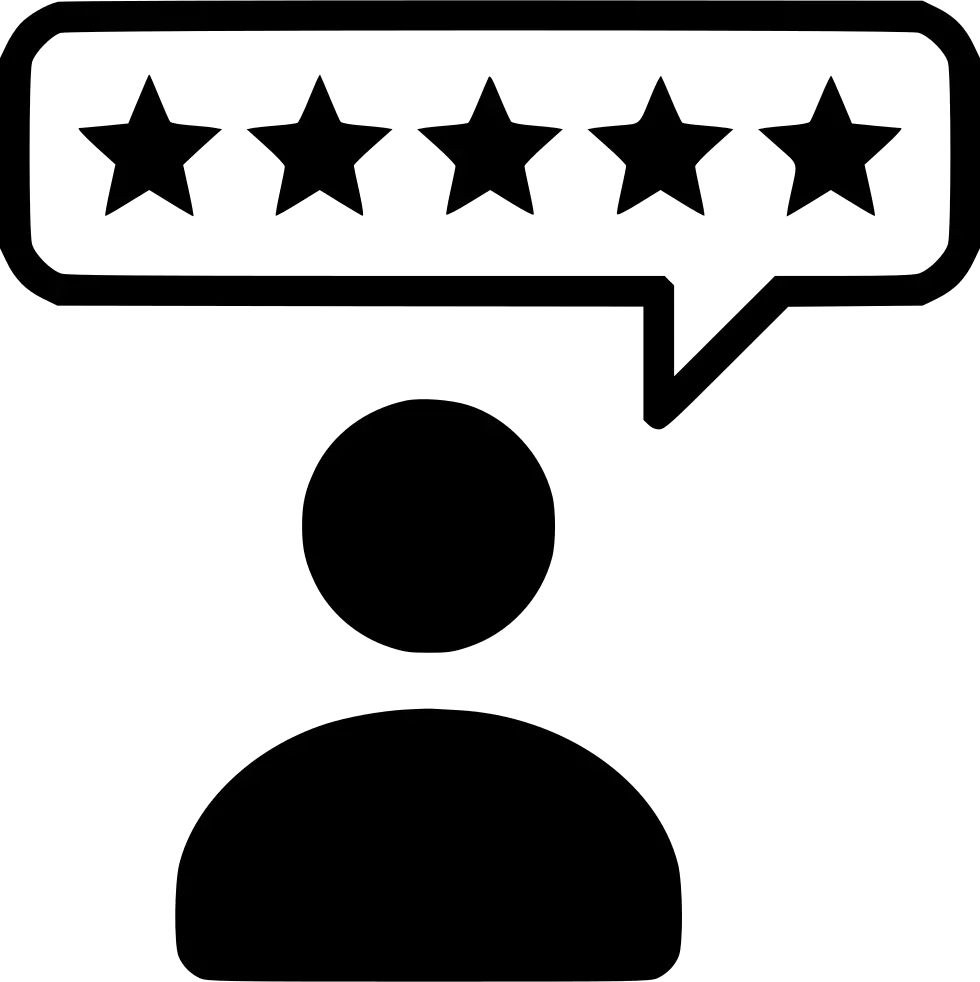 I love this product. Natural and actually works better than the majority of products that I have personally tried on the market. I have lost 20 lbs over the last 3-4 months using this product.
-Ronald V.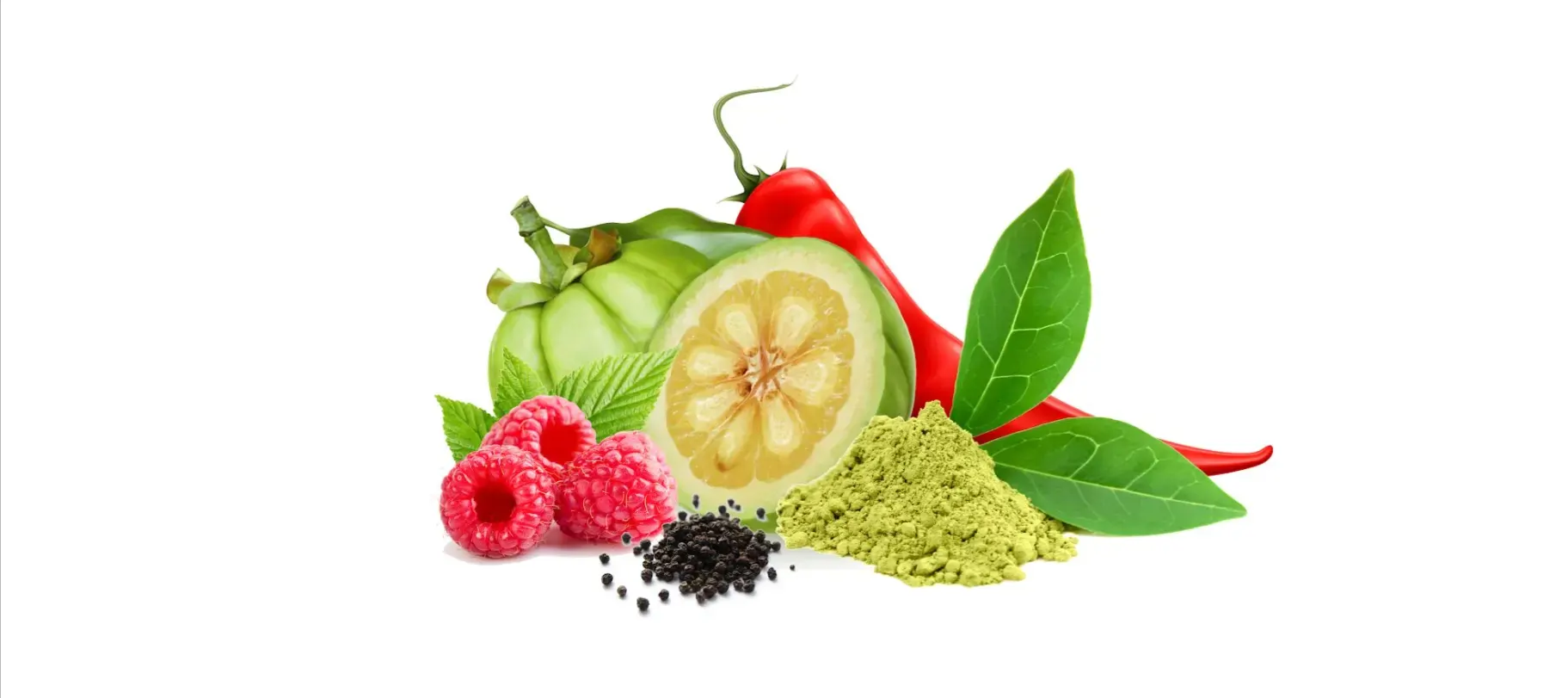 #1  GREEN TEA burns fat, boosts energy levels, speeds metabolism, loaded with antioxidants, enhances physical performance, boosts cognitive function
#2   RASPBERRY KETONES cause fat within cells to be broken down more effectively, helping the body burn stubborn fat faster, increase levels of adiponectin found in the body, a hormone that helps to regulate metabolism
#3 YOHIMBE BARK promotes weight loss,blocks alpha-2 adrenergic receptors to decrease body fat
#4  CAYENNE PEPPER capsaicin in cayenne has metabolism-boosting properties, reduces hunger, antioxidant rich, aids in weight loss
#5 GARCINIA CAMBOGIA  blocks your body's ability to make fat, appetite suppressant,excess weight loss, boots endurance. 
#6 BIOPERINE improved metabolism, nutrient absorption, thermogenic, weight regulation, dopamine and serotonin reward system, boosts cognitive function
Compared to other options on the market, our FatBurner
is 100%vegetarian + vegan, and grown from plant matter here in the USA.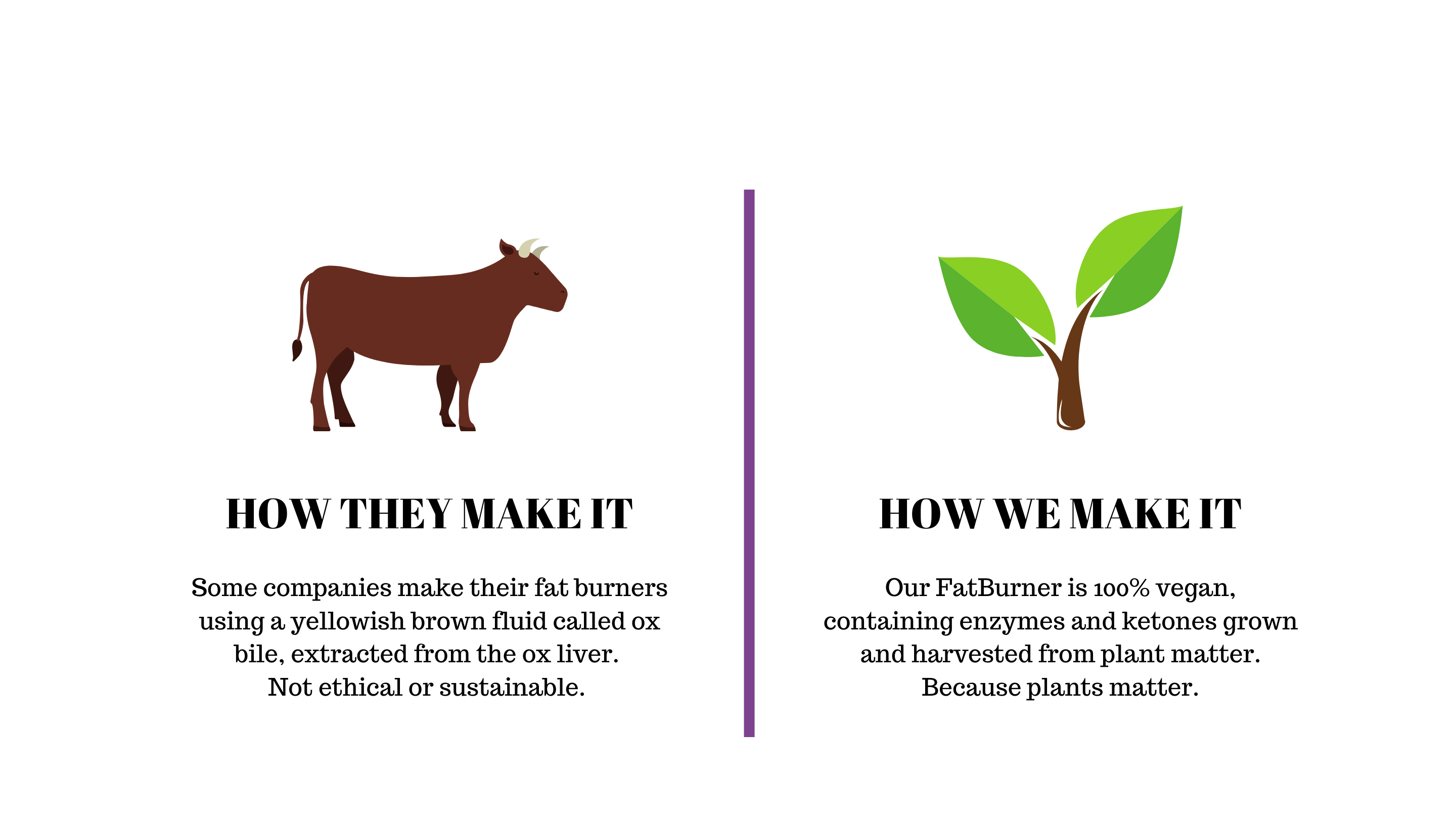 Fozia J.
"I love it. It's reduced my cravings, and I've already felt a difference.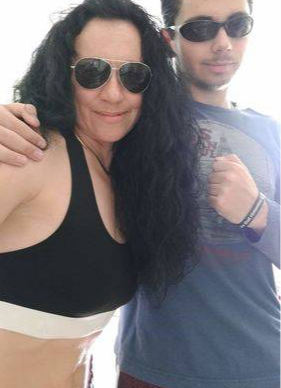 Elena G.
"Its awesome. I feel wonderful. Lost five pounds for less than a month. Feel full of energy. I love it"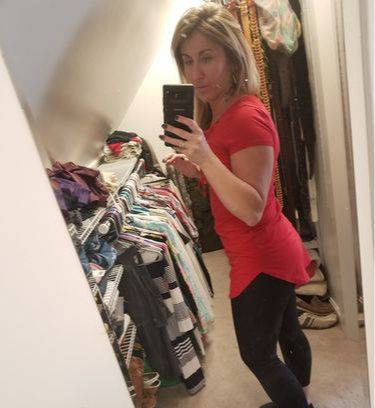 Calyn C. 
"This product has made me feel so good, my energy is up all day and I've dropped 3 pounds really without effort! But obviously diet and exercise is key! This stuff is amazing and will continue to purchase"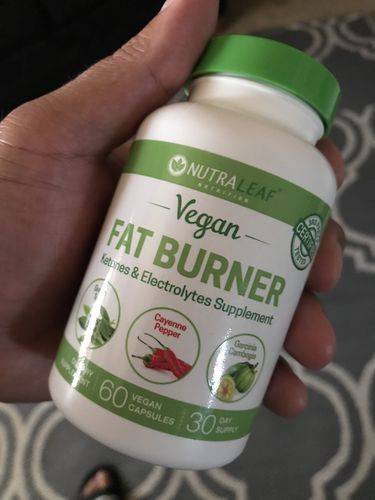 Tyren B.
"One of the best on the market. I have curbed my hunger & cravings. You literally feel a difference right away. Great product!"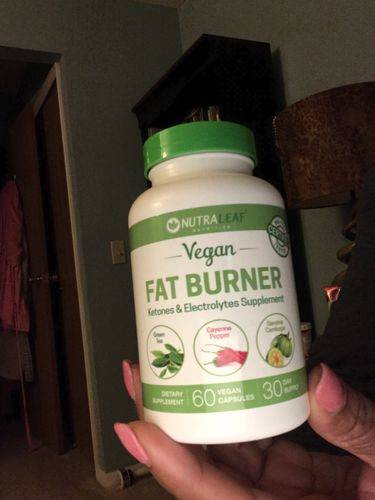 Rene R.  
"This is the best fat burner ever. I am down 5 lbs. I'm ordering my 3 bottles now! Try it, you wont go wrong!"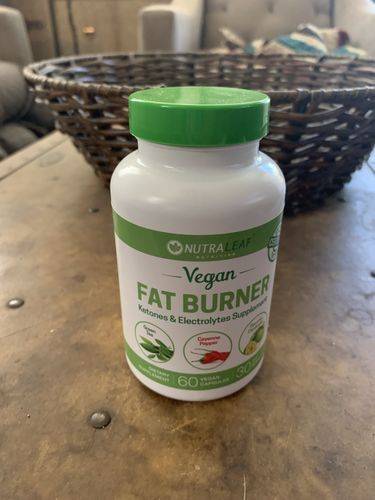 Adrian B.
"I started taking it two weeks ago. Definitely have more energy, no jitters and down 10lbs. Placing a refill order today!"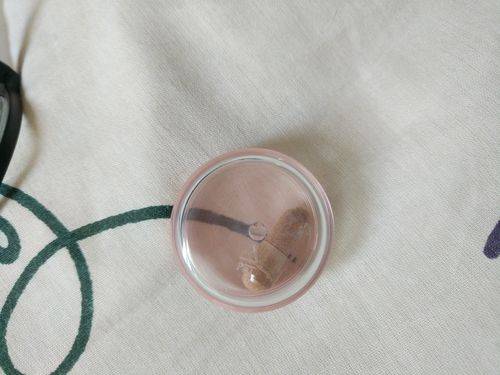 Danei A.   
"I lost about 10 lb just by taking the vegan fat burner. it really suppresses my appetite makes me feel full for a longer I used to overeat and I had such a big problem with not knowing when to stop and this definitely help suppress my appetite. I'm currently out of the country and I only have one of these left and I didn't have a picture to take out the bottle so I took a picture of the one pill that I have left haha. I also feel more awake and alert when I take them :)"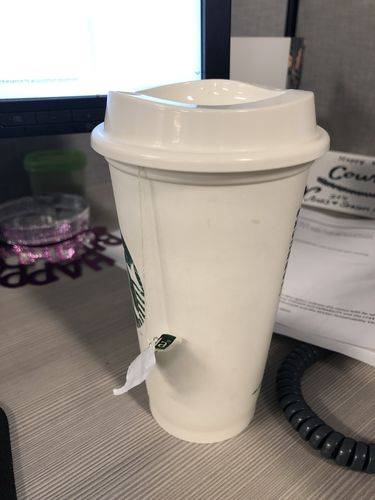 Courtney W.
"I am not the greatest at taking pills so I open the capsules & pour it in my tea or protein shake. Since using the Fat Burner pills I've lost 4lbs & I'm not even half way down with the bottle. I have a bunch of energy off of these. They're great! I love that they are vegan & I know all of the ingredients."
Leyla M.   
"As a strict vegan, personal trainer and nutrition coach that does not believe in any fat burning products. I am in love with this product. I use it for myself and recommend it to everyone I know!"
Questions? We've Got Answers
What is the recommended serving directions? 
The recommended serving directions is two veggie capsules taken in the morning on a full stomach.
For the supplement facts, here's a picture of our label: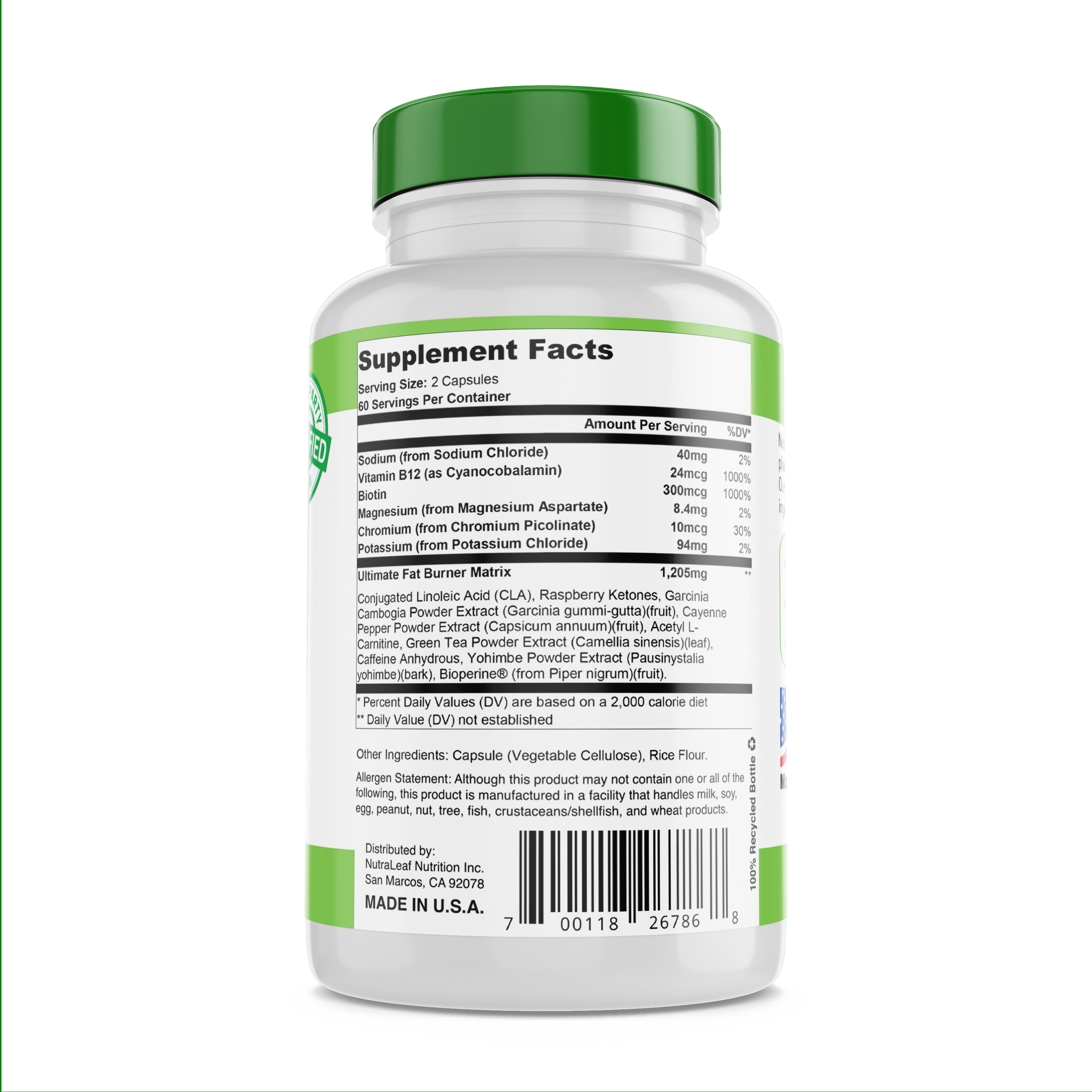 How long is the shelf life?
Our vegan fat burner has a shelf life of 24 months. You don't have to worry about it going bad any time soon. :)
Will I feel it work physically when I take it?
Everyone's body is different, therefore reacts differently. Some people feel like their body is running warmer and feel their metabolism speed up by digesting faster. Some also report feeling more energetic from the inside out. Others don't feel anything but see the results!
What is NutraLeaf's return policy?
We want you to love our product. When you receive our Vegan Fat Burner, we have a simple take: fall in love with it within 30 days. If you are not satisfied for some reason, returns are accepted. No questions asked. The countdown for the refund policy will begin on the day you receive your product and expires 30 days later. Our full policy can be found here.
I have more questions. How can I contact you?
Find * Follow * Love
@Nutraleaf